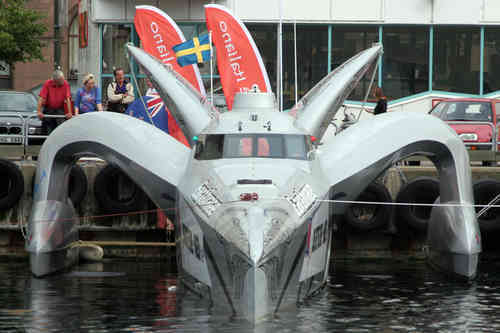 Shaped like an alien from outer space, Earthrace has been built to break the official 'Round the World Speed Record by a Powerboat'. The current record is about 75 days; Earthrace is hoping to do it in 65 days. However, unlike the other speedboat, Earthrace will do it using only 100% Biodiesel fuel.
Earthrace, which cost $3mm USD to build, is a not-for-profit project, whose main aim is to raise awareness of the environment and the use of renewable resources like wind and solar energy.
The people behind the project are New Zealand residents, Pete Bethune (the skipper) and his wife, who mortgaged their home and sold everything else they owned to raise the first $650,000 US Dollars. A similar amount was raised from friends and family, and rest came from sponsorships mostly in the form of donated goods and services.
The boat, built from environmentally friendly products, goes through waves instead of over them, making for a smoother riding experience, and can travel at speeds of up to 40 knots. The boat is currently touring the world, to try to give people a glimpse of what could be the future and also to get ready for its race in March 2008, to try be the fastest powerboat in the world.
During the tour, Earthrace is open for visitors. Just show up at any of the ports it is visiting, and you can get a fully guided tour for about $7 USD. Pay $60 USD and you can get you a ride on the boat while $10,000 US Dollars will earn you the right to join the four-person crew when the race begins in March. However, being a part of the team is not going to be an easy job. Though the outside of the boat looks cool, inside it is all barebones.
There are six basic bunk beds, four for the crew, one for a guest and the other containing an emergency life raft. The team works in pairs, spending two hours at the controls and two hours off. They try and sleep whenever they get a chance. Once the engines are turned on the noise is so deafening that the crew wears earplugs. Additionally, while the boat will not sink if it flips over, there is also no way for the crew to get out. They, therefore, carry an axe with which they intend to break open a hole, in case this happens. One more thing - there are no showers either.
However, people that have been on a ride are amazed by the speed and the way the boat "flies" through waves instead of over them. We'll keep our fingers crossed that this ship does break the world record and paves the way for future "cleaner" boats.
Sources: gizmondo.com,turbo.discovery.net