December 14, 2007
Airbus Lands On Glacial Runway In Antarctica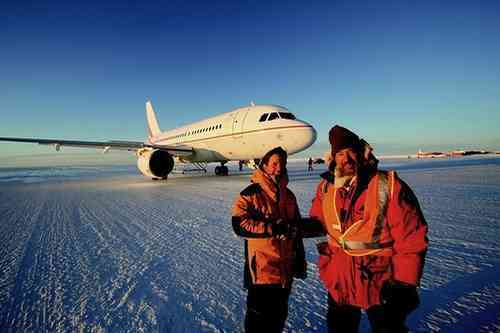 On December 12th, a passenger jet made history by landing on a new 'blue ice' runway, in Australia's Antarctic territory. The 2.5 miles long, 700 meters thick track is tricky not just because of the ice, but also because it shifts about 12 meters southwest annually, thanks to the natural underlying movement of the glaciers.
The Airbus A319, one of the company's smaller planes was chosen because it can make a return flight without needing to refuel. Before this, the only planes that have been able to fly into the Antarctica are military aircraft.
Work on the runway which cost $10mm AUD began in 2005. However, due to the harsh weather conditions, construction workers could only work in the summers, and it took them three years to complete the job. Even then, they had to face below freezing temperatures (-35°F) and cold winds blowing at 100 knots an hour.
While the idea of flying passenger planes to the Antarctic region has been considered since the 1950's, it was not seriously looked into until 2001, when a feasibility study was conducted. Work began in 2005 after the Australian Government funded the project with $46mm AUD.
The first flight carried only operational personnel. Once approved by aviation authorities, there will be regular flights from Australia, but for specialists and scientists only. This will help cut their travel time to the area from ten days (by boat) to just four hours. There are no plans to open this service for tourism.
Constructed nineteen miles from the nearest wildlife population area, the runway is expected to have minimal impact on the animals and the environment, which is a great relief to environmentalists.
Sources: liveleak.com, abcnet.au