The Iditarod A.K.A 'The Last Great Race On Earth' Has Begun!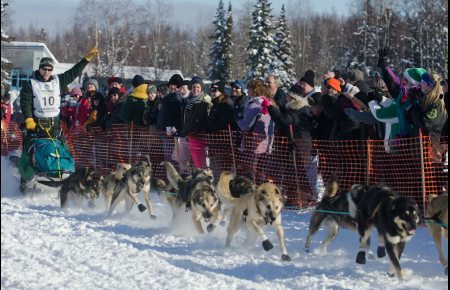 On Sunday, March 4th, thousands of fans gathered at Willow Lake, Anchorage, to give a rousing send-off to the 66 mushers and their crew of between 12-16 dogs competing in this year's world-renowned trail sled dog race - The Iditarod.
Among them, were six former champions including last year's winner John Baker, the first Inupiat Eskimo to ever win the race and, Lance Mackey, who dominated the race for four straight years until John toppled him off his perch. The cancer survivor who finished a disappointing 17th last year is determined, to regain his title.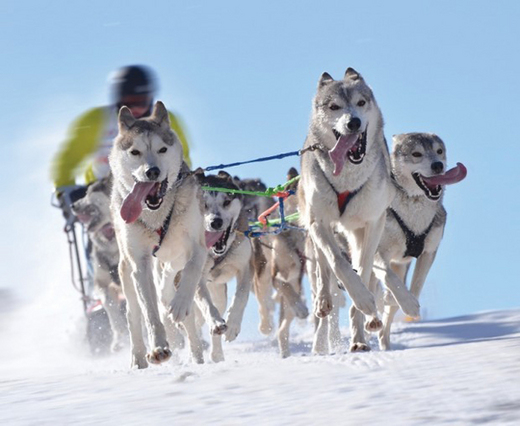 Also competing, are 36-year-old Ray Redington Jr. and his younger brother, 29-year-old Ryan Redington Jr., grandsons of Joe Redington, the co-founder of this grueling race, which began as a tribute to commemorate twenty hardy souls and their dog teams, who braved 40° below temperatures to rush a diphtheria serum from Anchorage to the isolated town of Nome and saved it from an epidemic.
Now in its 40th year, the competition often referred to as 'Last great race on Earth', involves sledding 976 miles across the Alaskan wilderness, through jagged mountains and frozen rivers in below freezing temperatures and against blinding winds. While every year is challenging, this year is expected to be even more so, thanks to the record snowfall the area has received. In fact, conditions are so bad that the organizers made some unprecedented last minute changes to the route to ensure that the mushers and their dogs are not in any unnecessary danger.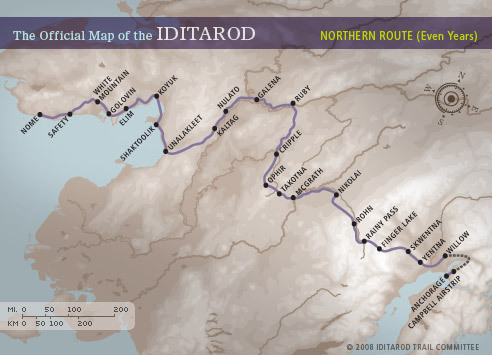 The journey, which lasts anywhere from 11-16 days, depending on the pace, entails the competitors checking in at 25 pre-designated areas, normally small towns along the way. While the race always takes place on the historic Iditarod trail that runs from Anchorage to Nome, the actual route alternates between even and odd years.
This year, the competitors will be traveling the Northern route, which passes through a myriad of frozen Alaskan landscapes - ranging from the rather dreary tundra to the steep Alaskan Range and the shifting sea ice of Norton Sound.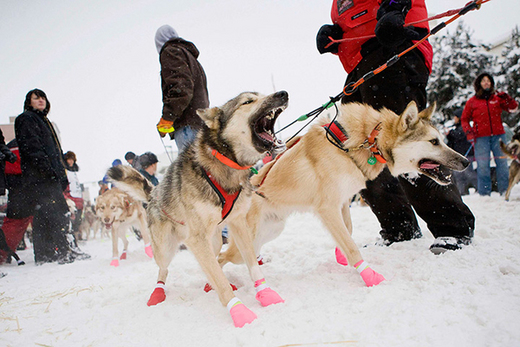 While the humans get all the glory and a chance to share the $550,000 USD cash prize (divided amongst the first thirty winners), the brave dogs that cover as much as 100 miles a day on all kinds of harsh terrain, are the true heroes. As with all sports teams, they too have a leader or captain to guide them to victory. Also important are wheel dogs, the workhorses that help pull the sled out of the snow. Other positions include 'point' and 'swing' dogs.
Also, as you have probably guessed only select dogs can endure a competition this hard. While there are several sled dog breeds that can be used, the most popular are purebreds like Siberian Huskies and Alaskan Malamutes, both known for their endurance, speed and dependability.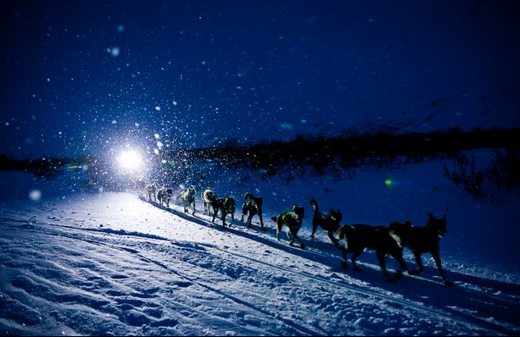 Though the spirit of the Iditarod remains the same, a lot has changed since the first race was held 40 years ago. For one, the leading contenders are all professionals who are financed by corporate sponsors and spend all year training for the race. The competitors are also equipped with cell phones and high-tech outdoor equipment, which includes custom built sleds and Global Positioning Devices (GPS), that help in tracking their progress. And of course, they now also write blogs and stream live, as they race across the treacherous route! To follow this exciting race minute-by-minute go to: www.iditarod.com.
Resources; Sacbee.com, iditarod.com, huffingtonpost.com
Create MLA, Chicago, or APA Website Citation
Create a website citation for this article. We support MLA8, MLA7, APA, and Chicago citation formats.
commemorate
diphtheria
endurance
epidemic
hardy
terrain
treacherous
unprecedented