December 29, 2007
Tokyo Zoo Celebrates Birth Of A Baby Tapir
A Tokyo Zoo received an extra special Christmas gift this year - the birth of a Malay Tapir, an endangered animal, usually found in Malaysia, Indonesia and Thailand.
The Malayan Tapir, a distant cousin of the horse and rhinoceros, is one of the largest primitive mammals in the world and weighs between 550-670 pounds. This nocturnal animal is vegetarian and travels long distances in search of food. Tapirs are excellent climbers and love to wade in the water. They are usually found in lowland areas during the dry season, moving to the mountains during the rainy season. They are a very solitary animal and often live and move around on their own, not in herds.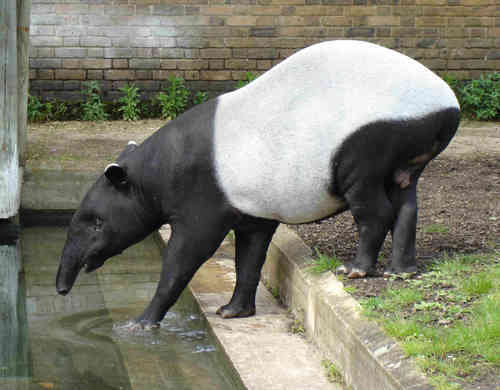 Over the years, the number of Tapir's in the world has declined drastically due to over-hunting and loss of habitat. As the habitat has disappeared, these animals have moved up to the mountainous regions of Malaysia and Indonesia, making it very difficult to tell how many of them are still surviving in the wild.
Environmentalists estimate that there only about 3,000 of them left, making the birth of this little cutie even more special.
Check out the video below of the mom and the newborn: