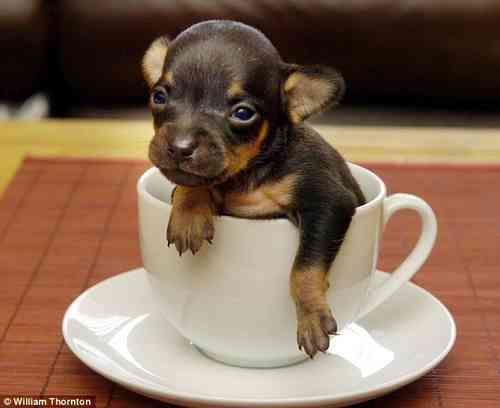 This cute little black and tan puppy may soon earn the title of the world's smallest dog from the folks at the Guinness Book of Records - that is if he doesn't grow any bigger from his current size.
Three-week-old Tom Thumb is part of a family of four puppies born to a Chihuahua mother named Spice, and a Jack Russell father called Oosie. The four-inch, 3 oz puppy, who can fit in a teacup, is the smallest of his siblings, who are all at least three times bigger than him.
However, that doesn't mean he can be bullied. According to the owners, little Tom Thumb is always the first in line when it comes to feeding time and seems to be able to hold his own around his 'giant' siblings, as well as, the five other dogs that Susan and Archie Thompson own.
The Thompsons who live in West Dunbartonshire, Scotland say that over the last ten years, they have had ten litters of Chihuahua puppies - and have never seen any as small as Tom Thumb.
While the rest of Tom Thumb's siblings will be given away when they turn six weeks old to eagerly waiting neighbors, Tom Thumb may stay with the Thompsons, especially if he is declared the World's Smallest Dog. The title currently belongs to Heaven Sent Brandy, a six-inch Chihuahua, who lives in Florida, USA. Currently, Tom Thumb has a 2-inch advantage over her, making him a very formidable competitor.
Sources: DailyMail.co.uk, lennoxherald.co.uk.