Geologists Discover World's Oldest Rocks
Two geologists believe they have discovered what could be the world's oldest rocks near the Eastern shores of Hudson Bay in North Quebec. Jonathan O'Neil from McGill University and Richard Carlson from Carnegie Institution of Washington say that tests conducted on the rocks from this region indicate that they could be as old as 4.28 billion years old, only 300,000 years younger than the Earth.
The discovery is very significant because it may have remnants of the primordial crust - the first crust that formed on the planet's surface as it cooled, 4.6 billion years ago. It will provide geologists an invaluable insight into how the first crust was formed, something that remains a mystery even today. That's because though the Earth is 4.6 billion years old, most of the original bedrock (the rock layer right below the soil) has been crushed and recycled into the Earth's interior many times by the Plate Tectonics - the movement in the Earth's crust that led to the formation of the continents.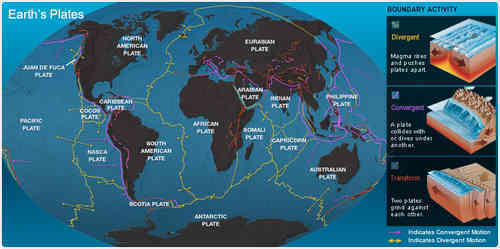 Some further tests will confirm this discovery is indeed part of the original crust or recycled rocks with some element of the first crust in them. If confirmed, geologists will be able to compare the chemical composition of these rocks, with those from newer bedrocks and determine how it has changed over the years. Before this, the oldest known bedrock, also found in Canada, was 4.03 billion years old.
Sources: VOA.com, SFGate.com
Generate citations in MLA, APA & Chicago formats for this article.
bedrock
geologists
primordial
significant
tectonics